Front Page
Garden, Lawn and Home Expo at Bonham Civic Center March 25
Mar 25, 2017
Fannin County, Texas -- Saturday, March 25 from 8:30 a.m. to 4:00 p.m., the Fannin County Master Gardeners will host their annual Garden, Lawn and Home Expo at the Bonham Civic Center. Learn about the hottest horticultural trends at the four speaker sessions, and have your trickiest garden questions answered by local experts. Admission is free!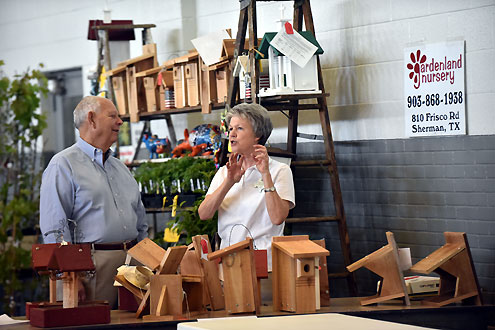 Our own Cody Maxwell, Fannin County Extension Agent, will provide information on all things related to having a beautiful lawn. Topics will include appropriate turf selection, fertilization, and pest management. Cody will bel speaking at 9:30.
Mike Marchant is a professor and Extension urban entomologist with Texas A&M AgriLife Extension Service in Plano. He maintains the City Bugs website. Mike's special interest is in reducing pesticide use and promoting use of low impact pesticides for schools. His topic "Good Bug, Bad Bug" will feature beneficial insects and the integrated pest management system. Mike has a wonderful sense of humor and presents his information in a user-friendly way. Mike will be speaking at 11:00.
Ashley Hartman, North Central Texas College Horticulture Program Coordinator, Instructor, and Greenhouse Manager, will speak on landscaping and gardening. Ashley is a Texas A&M graduate. She interned at Callaway Gardens in Pine Mountain, Georgia. Following a two-year stint as an AmeriCorps volunteer, she helped start the NCTC Horticulture Program in 2004. Ashley provides down-to-earth landscaping ideas that are designed for our area and that are easy to incorporated into the home environment. She will have the latest information about a variety of gardening methods. Her "Landscape Design" program will be at 1:00 followed at 2:00 by her "Gardening" program."

Vendors will have bedding plants, landscape plants, lawn and garden items, equipment, yard art and more. In addition, there will be a silent auction, and door prizes will be awarded at each speaker session. Lunch will be available at the Ector Junior Beta Club concession. Bring your wagons and carts to fill with your purchases.