Entertainment
Red River Scrapbook: Good health to all
Feb 21, 2017
When Hollywood wanted to show something iconic about American life in the 1940s and '50s, often they set a scene in a drug store. From Mr. Gower's pharmacy in Bedford Falls where George Bailey worked as a kid in It's a Wonderful Life, to the slick modern emporium of Walgreen's in New York City where Bob Fosse tried to woo the aching pretty Janet Leigh in My Sister Eileen. Fosse was the manager of the Walgreen's lunch counter, and sought to win fair maiden with homestyle meatloaf, turkey and dressing, and ice cream sodas. I so much wanted to go to a drug store like that.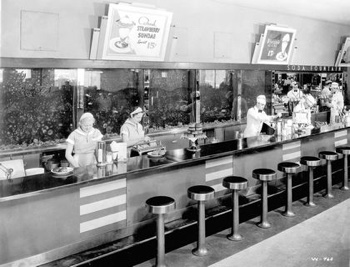 A Walgreen's soda fountain/lunch counter in the 1930s.



The big chain drug stores were things of larger cities. Sherman may have had a Walgreen's or probably a Skillern's, but in a town the size of Bonham the independent druggists held sway.

The drug store as a connection point for the community, particularly teenagers, had grown out of the soda as restorative, soda fountain, ice cream parlor boom that took off when manufactured ice, from brine, became available. Because the soda water was seen as a health drink, pharmacies became a natural location to dispense the tonic.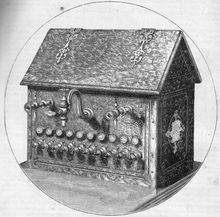 An early machine for making carbonated water.
The equipment to make carbonated water was large and bulky, and enterprising druggists soon found that fancy displays, and a sociable surroundings led to more and happier customers. By the turn of the 19th Century, the equipment mix the soda had been simplified, ready made carbon dioxide was available and even the small town pharmacy could boast a soda fountain as good as any in the big city.


The well recognized orange and blue Rexall sign.
The local drug store, like McKnight's Rexall or Peeler's or Bonham Drug or the Plaza—one on each side of the square offered far more than just medicine and had something for must about everybody. The Rexall stores was a little different. Rexall was a franchise trade association of independent pharmacies who benefitted from the greater buying power of a big organization. There was a Rexall brand for almost everything, and the company did extensive advertising in print and on the radio booming forth their slogan, "Good health to all, from Rexall."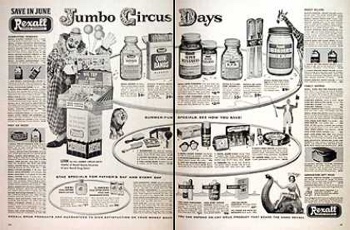 Typical Rexall ad
At one time or the other, the company sponsored Amos and Andy, The Phil Harris and Alice Faye Show, and Richard Diamond. In 1936, Rexall put together a special 12-car train pulled by New York Central streamlined Mohawk locomotive that traveled 29,000 miles in 47 states (no Nevada, go figure) highlighting their products. When the train stopped in a town, folks could get passes from their Rexall dealer and take the tour.
But for the most part, all of Bonham's drug stores were similar in their offerings. There was something for just about everyone. There was the soda fountain of course—all four stores had soda fountains. There you ordered Cokes, cherry Cokes, lime Cokes, and vanilla Cokes. Toasted ham or chicken salad sandwiches, served with a handful of potato chips, made a great lunch when combined with a Coke, an ice cream soda or a milk shake or malt.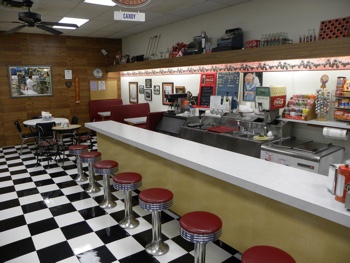 A 1950s soda fountain near Greenville, TX
On the back counter, on a glass shelf above the lines of Coca Cola and fancy soda and milkshake glasses were neat rows of little cans of Campbell's soup—cream of tomato and chicken noodle in the fore—and individual boxes of breakfast cereal. I always wondered who ate Post Toasties at the drug store. In the back of the store were booths where the teenagers hung out. Under the table tops of the booths were at least a million calcified wads of old chewing gum dating back to who laid the rails.

For the younger set there were racks of comic book with paper back books, and magazines for their elders, a regular candy counter with a the usual candy bars, and a complete selection of Life Savors, including the dangerously wicked Butter Rum.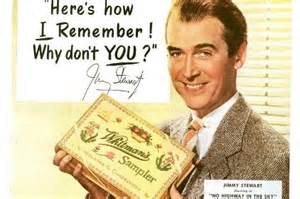 Even movie stars have a sweet tooth.
For the more discriminating candy lovers there were boxes of Russell Stover and Whitman Samplers, and the ever mysterious chocolate covered cherries. How did they get the cherry center in there?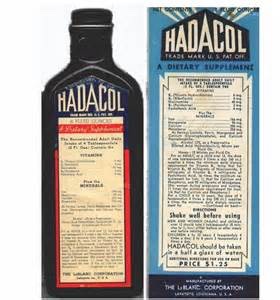 Hadacol had so much alcohol that even if it didn't cure you, you didn't much care.
There were boxes stationery, perfume, men's toiletries, and film developing. And of course there were shelves of over-the-counter remedies from cough syrup, the Smith Bros. cough drops, aspirin, first aid materials, and balms and ointments to the bottles of remedies of questionable efficacy—Lydia Pinkham's Ladies Tonic, Carter's Little Liver Pills, and for a while, the notorious Hadacal.

In the back, the pharmacist filled prescriptions. He also sold heating pads and ice packs, jigsaw puzzles and playing cards, and a full line of school supplies. At McKnight's for every dollar's worth of notebooks and rulers you bought at the beginning of the school year you got a coupon worth a free ice cream soda.
Each of the drug stores had an ambiance of its own. At Peeler's, you walked up a ramp from the front door to the store and the comic books and magazines lined both sides of the sloping entrance. Order a coke at their fountain and it came in a paper cone that fitted into a plastic holder rather than a standard Coca Cola glass. Bonham Drug had classic glass topped tables with wire ice cream parlor chairs and served their Cokes in same paper cones. Bonham Drug always seemed a little empty, but it held its own for years, so the customers came from somewhere.

The Plaza was always busy, maybe because it housed the bus station in the back of the store where the big Trailways and Greyhound coaches rolled up the ally to pickup and drop off passengers. There were the smaller bus lines too, like the blue and white Moony buses that I sometimes road to Leonard to visit my grandparents. Rather than make me ride downtown, the Moony driver would dutifully stop in front of my grandparent's house across from the high school where my grandmother would be waiting on the sidewalk to see me safely across the street.

My father's cousins, Holmes and Biff Connelly had drug stores in Trenton and Leonard, and I would hang around there when visiting and cadge free Cokes while I read the comic books. They are all gone now.

Oh, there are pharmacies galore, where they pour pills out of a big bottle into a little bottle or give you a pill encased in plastic that mock your puny efforts to get one out. The local drug stores are all but gone, replaced in many places by the national chain operations. The modern Walgreen's and CVS stores have a lot of merchandise, and they are nice stores, but it's just not the same thing, something is missing. There are no soda fountains and no booths with wads of old gum under tables. Maybe if they had a rack of comic books...or a soda fountain, or ….