Front Page
Celebrate with the Presidents at Eisenhower Birthplace State Historic Site Feb. 18
Feb 18, 2017
Denison -- The Eisenhower Birthplace State Historic Site invites you to celebrate Presidents' Day on Feb. 18, 2017 from 10:00 a.m. to 2:00 p.m. We are located at 609 S. Lamar Avenue in Denison, Texas. The event is for children from ages toddler to 12 with parents in attendance too!
Presidents' Day began as an early tradition in our American history when we celebrated President George Washington's birthday on February 22, not long after his death in 1799. Almost 100 years passed before the birthday became an official federal holiday when President Rutherford B. Hayes signed into law the celebration of Washington's birthday. While honoring Washington as one of our foremost Americans, various states also celebrated other presidents in conjunction with the holiday, most notably Abraham Lincoln's February 12th birthday. In 1971, Congress opted to merge these two birthday celebrations into Presidents' Day with the passing of the Uniform Monday Holiday Act., creating a three day weekend.
As the Eisenhower Birthplace joins the celebration of honoring our presidents, we will include President Dwight D. Eisenhower in the festivities! On Saturday, February 18, we will have story time, life-size posters of Presidents Washington, Lincoln and Eisenhower for picture-taking opportunities, a variety of crafts and games, prizes, and a tour of the birthplace of our 34th President. Drop in anytime between 10:00 a.m. and 2:00 p.m.
Cost to the event will be $1.00 per person.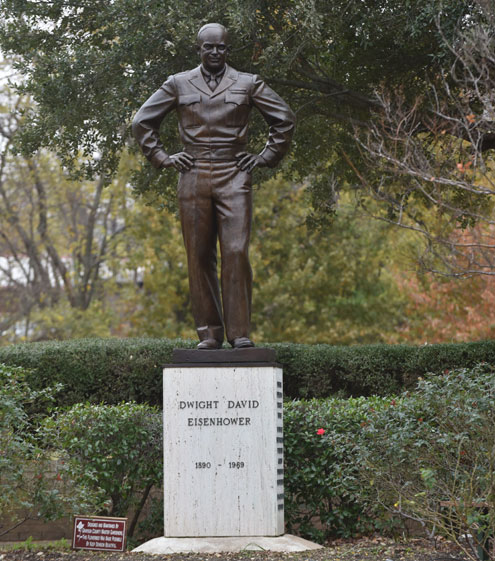 Statue of General Eisenhower located on the grounds of the Eisenhower Birthplace State Historic Site.
For more information, please contact Carolyn Villareal @ the Eisenhower Birthplace State Historic Site @ 903-465-8908, or email us at carolyn.villareal@thc.texas.gov or find us on Facebook at Eisenhower Birthplace State Historic Site. We look forward to seeing you on the 18th!