Local News
McKinney Fire Department recommends annual chimney inspections this year and every year
Dec 31, 2017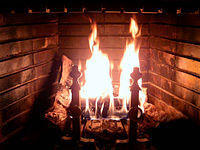 McKINNEY, Texas Ė The McKinney Fire Department (MFD) along with the Chimney Safety Institute of America (CSIA) reminds residents to schedule an annual chimney safety inspection to identify potential hazards for cracks, creosote buildup or other obstructions. Each of these diminishes the functionality of the system and creates an environment where chimney fires or carbon monoxide intrusion is likely.

"Having a professional inspect and clean your chimney and performing preventative maintenance is the most important part of maintaining your fireplace and chimney," said Fire Marshal Mike Smith. "Over time, the chimney can become coated with soot and creosote, which are byproducts of fires that arenít burning efficiently."

View this safety video and follow the recommended safety tips that should be followed when igniting your chimney.
Never burn garbage or painted/treated wood, only dry fire wood

Open damper fully before lighting a fire

Keep the fire to the back of the fireplace

Always use a spark screen or glass doors

Follow the manufacturerís instructions when burning artificial logs

Keep a fire extinguisher handy

Make sure smoke alarms and carbon monoxide detectors are working properly
Maintaining your chimney regularly will ensure that it operates in the safest, most efficient manner possible. Additional information can be obtained by visiting www.mckinneyfire.org or http://www.csia.org/chimneyfires.html