Entertainment
Red River Scrapbook: Travels with the Judge: part 2
Jan 7, 2019
Judge McMahon was in his late 70s or early 80s when I knew him. He was average height but big, like a bear. He had bushy eyebrows like John L. Lewis, a deep, gruff voice, and the charm of a bygone era that was multiplied by age and Southern gallantry.
Once, when my parents were late picking him up for a function at the golf club, and my mother was apologizing for being the cause of the delay, he quieted her efforts with, "Never mind, my dear. The only thing that exceeds the pleasure of your company is the anticipation of your company."
There was not a waitress south of the line he could not charm in an instant, although he had little truck with poor or lax service. His technique for summoning the waitress was this: In a moderate voice he would call, "Lady!", while raising his arm. If there were no response he would try again, this time in a voice that filled the room, "Lady!" A second non-answered request brought, "Obviously she's not a lady!" There was no need of a third request.
Except for his hearing, he was in hardy good health and could out walk men well his junior. He was up at dawn, ate a double order of breakfast and filled in the rest of the day with apple pie and coffee. In the car, he was always urging the driver to "go a little faster, speed it up," as I learned when I was a rising senior in high school and once again went traveling with the Judge.
I had spent the summer as a lifeguard at a church camp on Lake Fannin and was waiting for football two-a-days to start in a couple of weeks, when my father called me at home one afternoon and asked if I wanted to drive the Judge to Missouri to visit some friends. I said yes.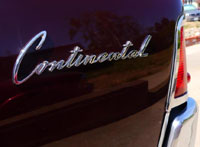 Early the next morning, in the latest Lincoln, we headed out for Fayette, Missouri in the north central part of the state near Columbia and Booneville. Around 11, just outside a small town in Oklahoma, we blew a tire. I installed the spare, and we limped into town where we had lunch while waiting for a new tire to be mounted on the car. We got to Fayette about five in the afternoon.

The Judge's friends lived in a restored 1820 plantation house on the outskirts of town, and we spent three days with them. While the Judge visited with his friends, I read the latest James Bond paperback, made side trips on my own into the countryside, and checked out the local color. I even made it into Booneville one evening to go to the movies. I saw Merrill's Marauders with Jeff Chandler.

Too soon for my wishes, the Judge advanced the time-honored adage that after three days fish and guests begin to stink, so we said our goodbyes and came back to Texas. When I got back to Bonham, I found out that my Uncle Bill had died in Trenton while I was gone and the funeral was the next day.

Two-a-day football practice started a week later and the next two months were caught up in a season that surprised everyone involved. Bonham, the smallest school in the district, 2-8-0 the year before and slated for the bottom of the barrel that year, was 4-2-0. With not enough players to conduct a full line scrimmage, we were chasing McKinney for the district title and getting ready to play Greenville at homecoming on a Friday night in mid October when the next call came.

"The Judge needs a ride to Austin for Saturday's Texas game with SMU. He's got two extra tickets." Declining the offer never crossed my mind. The only question was who got the other ticket. My first choice was my best friend and teammate.
He would go anywhere and not even bother to ask the destination until you were halfway down the road. He would have gone too, but my father thought the co-driver should be a grownup, so I recruited Jack McElhannan, the Warrior head coach, and he agreed to join the trek.
We had a busy Friday night. I kicked two extra points and the second field goal made by a Bonham player since 1947 (Don Campbell kicked the other one.) in a 17-0 win over Greenville. I crowned the Football Queen and took her to the Homecoming Dance, before going home, crawling into bed for a few hours sleep and then crawling back out again at 4:30.
The Judge had come into town and spent the night with his friend Judge S. F. Leslie who was also going to Austin for the game. He and Leslie had been classmates and teammates at UT at the turn of the century and firm friends ever since. Both were up and ready to go when I met Coach Mac at the Leslie home.
Judge Leslie had lost an arm somewhere down the line and was not quite as spry as Judge McMahon. He could hear a lot better though, so the two old men sort of complemented each other in their ability to get along. Leslie could tie his tie in a fore-in-hand knot with his one arm, and he delighted in performing this feat for anyone who would watch. He showed me how to do it at least twice before we left Bonham that morning.
Coach Mac curled up with a pillow and slept most of the way to Austin while I drove. We got there in time to check into the motel the Judge had booked, have a piece of apple pie and a cup of coffee in the coffee shop, and be in our seats for the kickoff. Texas edged the Ponies 6-0.
After the game, I left Coach Mac with the two judges at the motel and drove out in the big Lincoln to visit my aunt who had moved to Austin from Sulphur Springs a few years before. My cousin Janie, who went to McCallum High School, had been in her own homecoming ceremony the night before as one of the finalists for queen. I slept as late as I could the next morning and let Coach Mac drive back to Bonham and into the rest of an exciting football season and my last year in high school.
The last time I saw the Judge was at Christmas a year later. Age and a lifetime of doing had caught up with him, and he was in the hospital in Sherman.
For the first time in their history, his beloved Longhorns had finished the season ranked number one in the country. Unbeaten and untied, they were set to face once-beaten Navy, ranked number two, in the Cotton Bowl on New Year's Day for the national championship, but he couldn't make the game he had waited for all of his life. It was the last time I saw him.
As I finished my short visit, he gave me an envelope. Inside were two Cotton Bowl tickets. I went to the game and watched Texas destroy a great Navy team led by their junior Heisman Trophy winner, Roger Staubach. It was 28-6 and never in doubt. Bonham's Tommy Mankin played in that game for the 'Horns.
The next day's paper showed a picture of the Tower in Austin, orange from top to bottom with a big number 1 picked out in the white lights of the library windows. I suspect he liked that. I don't know if Judge McMahon ever saw the Longhorns play in person again, but then he didn't have to. It couldn't get any better than to see them at the top of the charts.
The Judge died 1967, in a rest home in Bonham. I figure he is somewhere special now, with a clear view of Royal Memorial Stadium and a special dispensation to shake his cane and growl out a curse at those good-for-nothing officials, when they throw a flag against the 'Horns.