Entertainment
Red River Scrapbook: Dinner at her table
May 20, 2019
Mama's sittin' in the kitchen,
All those memories I own,
Just as sure as I'm able,
I'll have dinner at her table.
When summer ends, I think I'll go back home.
The song, written by Rod McKuen and recorded by Glenn Yarborough, was titled, "When Summer Ends." Its theme was that of a wanderer musing on the people and things he would see when summer came to a close and he went back home. (You can hear Yarborough's rendition on
YouTube
.)
The sentiment is no doubt universal, unless of course the "mama" in question was a sorry cook. Let's face it, the glories of "home cooking" depend mightily on whose home and who is in the kitchen dishing out the hash.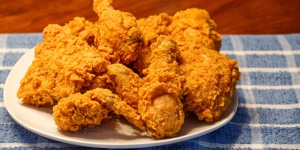 Fried chicken that would make the Colonel blush
I was lucky in that respect. My mother was a good cook, and I base my quality assessment on a simple, oft demonstrated test. When my friends were at our house at mealtime and were asked if they would like to join us there was never any hesitation. They accepted with alacrity and headed for the kitchen. When the situation was reversed and I was away from home, I would dutifully call in before accepting. Ostensibly this was to ask permission, but in reality, it was to check the menu and weight my options.
We ate well at my mother's table. We ate often at her table too, as "eating out" was not so common then as it is now. We ate out on Sundays after church (unless the Cowboys had an early kickoff time) and sometimes on special occasions such as birthdays, but most of the time we ate at home.
Breakfast was pretty basic. I don't think she was all that inspired early in the morning and so there was no frolicking with complicated fare in the a.m. Bacon, eggs, and toast (oven toast—a subject for future consideration), oatmeal or cereal were on the menu and were occasionally augmented by sweet rolls from the Manor Baker (the orange ones would leave Starbucks in the dust), but not much else. That was all right with me as I wasn't much of a breakfast person anyway.
Unless—unless I was visiting my grandparents and could get my grandfather to make scrambled eggs for me, which was pretty much a gimme most of the time. He would pull out a small iron skillet and turn a couple of eggs, a bit of butter, and a splash of milk into something special. The curd was soft and creamy but still firm, and the taste blended the eggs, pale yellow with streaks of white, with a buttery sweetness I've not tasted since. I've got a well-seasoned little iron skillet, and I've come close, but I've never quite matched his taste.
When I started school, I ate lunch at school, almost always in the cafeteria. Complaining about the lunchroom was part of the schoolboy ritual, but in reality, most of the fare was pretty good. But that's another subject too.
Our family's principal meal was in the evening, supper I think. (One of these days we'll investigate the etymological differences between supper and dinner, but not now.) Saturdays and Sundays were more of the do-it-yourself variety, particularly as my brothers and I got older and were likely to have other plans.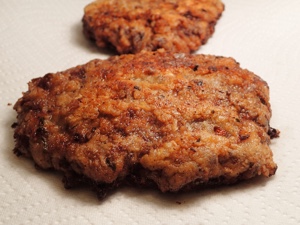 Chicken fried steak--a Lone Star staple
Over the years mother developed a pretty reliable rotation of menus built around traditional Southern cooking. Fried chicken and chicken-fried steak showed up at least once a week. Her fried chicken was still the best I've ever had. She took the skin off, coated the pieces in cracker crumbs and fried the chicken in a skillet. The white meat was snowy white but still juicy, not wet but juicy. The chicken-fried steak was round steak pounded to tenderize it and prepared like the chicken.
Pot roast and the roast beef hash over hot biscuits that came along the next day were favorites. I liked day two better than day one. This was true when we had a baked ham as well when the next day's ham pie was the real treat. So was fried ham. You could buy slices of country-cured ham at the market back then, and the fried ham (sautéed really) in a cast iron skillet and topped with red eye gravy made by deglazing the pan with water or coffee was truly a wonderment. Mother used water and added a bit of sugar to the pan and the result was dark red liquid, sweet and salty that all but turned a biscuit into dessert.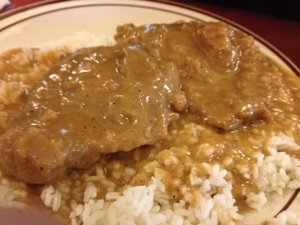 Smothered steak
Other staples were smothered steak cooked in a thick brown gravy, Swiss steak, a thick cut of round tenderized in a pressure cooker and than slowly simmered with tomatoes, celery, and onions, and pork chops. She browned the chops in a pan and finished them off in the pressure cooker.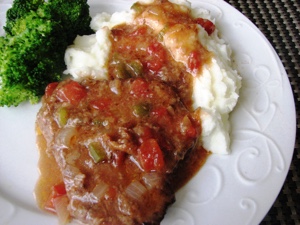 Swiss steak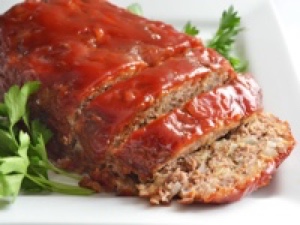 Meatloaf
Meatloaf was a favorite, with the added attraction that if there were leftovers you could make a thick meatloaf sandwich the next day. A pot of navy beans with ham hocks and hot water cornbread made a filling winter supper, and if pressed for time, we'd often get creamed tuna on toast. I still make that when I need a comfort food.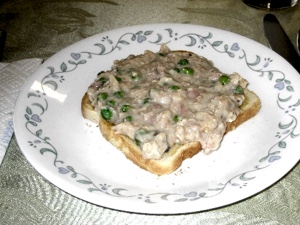 Creamed tuna on toast, comfort for cold winter's night
Every now and then we'd have steaks. My father could usually count on getting a legal fee paid with a side of beef every year so that helped. On special occasions we sometimes had fried oysters. You could buy cans of raw, pasteurized oysters in most supermarkets, and they got the cracker crumb treatment before going into the frying pan. I never had lamb until college. Maybe it was the heritage of the cattleman vs. sheepman thing. At least at our house, we had no truck with woolies, except as sweaters of course.
Mother made beef stew, vegetable soup, stuffed peppers with tomato sauce, and occasionally we'd have spaghetti and meatballs, which was about as continental as we got. We didn't eat a lot of fish, mostly canned salmon and tuna. Salmon croquettes were one of my favorites, and during the hot nights of summer we'd often sit down to a meal of cold canned salmon and pork and beans with a side of fresh tomatoes and crackers. I'm still hooked on the salmon and beans straight from the cans. I even like the crunch of the soft bones left in the fish.
We ate hamburgers and hot dogs and sandwiches of course, and I recall a couple of experiments with corn dogs and tacos, both of which were on the exotic side of the ledger. Some things normally thought of as breakfast fare were supper dishes in our house. That's when we had scrambled eggs, country sausage as an entrée, and pancakes.
Except for sandwiches, we weren't a light bread eating household. The staff of life on our table usually took the form of homemade hot biscuits, cornbread, or brown and serve rolls. When I was little, I would collect the leftover rolls and…. But, that's another story.
Mother was good baker, and baked bread in spurts. Thick slices of homemade toast and a glass of milk made a substantial breakfast. Where she really shone was with desserts. We didn't have dessert every night, but there were enough brownies, cookies, cupcakes, cakes, and pies to satisfy the sweet tooth, and make for another story some day. Jello chocolate pudding was another favorite of mind. I liked the skin that formed on the top the best. Rumor has that some grownups still make chocolate pudding and pour it in a flat pan so it 90 percent skin, but it's just a rumor I'm sure.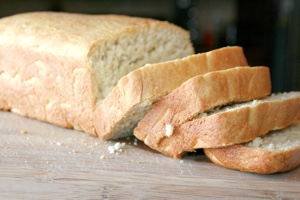 Bread, still warm from from the oven
I'm running out of space and haven't got to the side dishes. Nothing unusual there, just good: potatoes, boiled, baked, fried, and mashed, butter beans, and English peas—in a nest of mashed potatoes if available—pintos and limas, green beans, carrots, corn, canned, on the cob, fried, and creamed. We had okra and tomatoes from my grandfather's garden, and we had rice regularly. We were too far west for the grits influence. I never had grits until I started working on the railroad and spent some time in Texarkana, where I'd eat a bowl of grits for breakfast at a café near the railroad station.
As soon as I bring an end to this piece, other dishes will come to mind, but for now this will do. What do you remember from you mother's table? Let me know with a comment. (
redriverscrapbook@gmail.com
) It's import that we hold on to our culinary heritage lest it be consumed by the sameness of the chain restaurants and fast food emporiums that dominate our cuisine today.