Entertainment
Red River Scrapbook: Henry Sanborn and the devil's rope
Dec 24, 2018
Henry Sanborn and the Devil's Rope
by Edward Southerland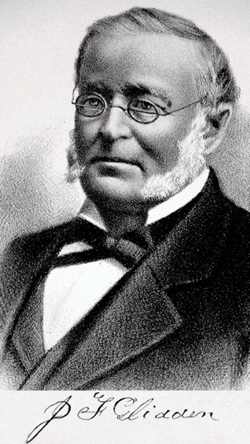 Joseph Glidden

Early Texas cowboys called it "devil's rope," and most of them did not like it one damn bit. J.F. Glidden devised the first successful barbed wire in 1874 in response to his wife's request for something to keep the dogs out of her flower garden in DeKalb, Illinois. Borrowing an idea from nature, the thorn, Glidden wound barbs around the wire already on the fence and the dogs stayed out.

Before that, the country was fenced with wood or stone. But wood was in short supply in the west, so short that in some areas people lived in sod houses. Stone, while it may have plentiful, was labor intensive and difficult to utilize. Glidden's idea was a nexus of need and opportunity.

While the first patent for a barbed wire had been issued in 1868, it was Glidden who made it practicable. He got patent number 157124 on November 24, 1874 and joined with Isaac L. Ellwood to manufacture the product. The problem was, nobody was buying it. At least not until two of his wire salesmen came up with some ideas for promoting the product.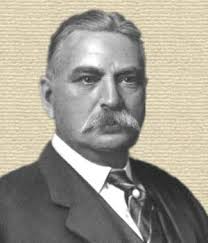 John "Bet-a-MIllion" Gates

In 1878, John "Bet-a-Million" Gates fenced in the Military Plaza in front of the Alamo in San Antonio with Glidden's wire. He pushed a herd of longhorns into the enclosure and stampeded them. The cattle hit the wire a few times, recoiled from the scrapes and pricks of the barbs, and retreated to the center of the pen. Gates said the wire was "light as air, as strong as whisky and as cheap as dirt."

While Gates was stampeding the longhorns, a man named Henry B. Sanborn already was taking a more studied approach. Sanborn came to Sherman in 1875 to sell Glidden's wire in North Texas. His first sale, for ten rolls, came from Gainesville.

But business was slow, so Sanborn came up with a promotion that would show the westerners the advantages of barbed wire and modern animal husbandry. He bought a thousand acres twelve miles west of Sherman on the old California road, and in short order that grew to ten thousand acres of Texas prairie. Then he began to build a model ranch to show the skeptics the new way of doing things.

He built a depot alongside the newly laid rails of the Texas & Pacific and shipped in wire from Glidden's Illinois plant. He strung more than one hundred miles of wire, with hundreds of gates, and began to raise horses, cattle and mules. Several hundred acres were utilized to grow grains, hay and vegetables to supply the ranch.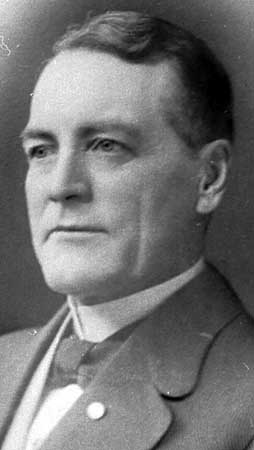 Henry Sanborn

Sanborn's cattle, though few in number—usually less than three hundred head—were the product of the tough, wiry longhorns and the less hearty, but beefier Herefords and shorthorns. One contemporary story about the ranch in The American Breeder noted, that as a result of the year-round grazing offered by the well fenced and well tended pastures, Sanborn's steers brought $40 a head even in the dead of winter. Then there were the mules. The ranch advertised "…the largest herd of jacks and jennets of the most desirable strains of breeding on this continent."

But without question the pride of the Sanborn operation was the horses. The ranch accommodated 1,400 head of many breeds and specialties. There were big Percherons and Clydesdales, saddle horses and trotters, which, as reported in The American Breeder, "...were pure bred from such noted studs as Ellwood's and Dunhams' in Illinois, and from noteworthy stocks in Kentucky, Missouri, and Canada."

Stock sales provided between $25,000 and $40,000 a year to the ranch accounts. The animals were in such demand that Sanborn operated a sale stable year-round at the Dallas Fair and Exposition grounds from which grew the State Fair of Texas. Visitors from around the world traveled to Sherman to inspect the ranch and marvel at its efficiency and profitability. Not without good cause was the Sanborn Ranch called "…the pioneer stock breeding establishment in the state."

It was a new idea, and cattlemen around the country began to see the benefit in special breeding rather than simply rounding up the free-range herds and driving them to market. One reporter wrote that the good stock "... made plenty of money, as against having scrub stock and taking no care of it an loosing (sic) money, as has been the case with so many ranches and farms in and out of Texas. .... It has awakened Texas to the folly of breeding scrub stock by scrub methods."

Sanborn expected that one day the ranch west of Sherman would be more than just a successful agricultural exhibit. He expected to make it his permanent home, and to that end he built a thirteen-room mansion as a home for his wife Ellen and son Ellwood. The property had neat machinery and grain sheds, a blacksmith shop, water works and even a storm cellar, a startling new idea for its time. Over all, Sanborn invested over a $250,000 in the Grayson County property.

A millionaire from the barbed wire empire he and others had built, Sunburn sold the Grayson County Ranch in 1892, for by that time he was involved in many other enterprises. He had property in Clay County and a part of J.F. Glidden's big "Frying Pan Ranch," in West Texas. He swapped the Frying Pan interest for town lots in the growing little community of Amarillo, and acquired a section of the famed XIT spread when it was subdivided.

Sanborn, who had lived for a while in Kansas City, had $500,000 worth of property there, including the Hotel Broyles and a palatial home. Henry and Ellen moved to Amarillo in 1902 and into a mansion with a deer park and stable for their purebred coach horses, but they were alone by then. Their only son, Ellwood, had died in 1890, only twenty-one years old. Henry Sanborn, active and involved until the end, died in 1912, following a short and unexpected illness.

But what had he wrought? In 1874, 10,000 pounds of barbed wire had been manufactured and sold in the United States, and by 1877 the figure was three million pounds. In 1877, a year after the Sanborn Ranch was started in Grayson County, the number reached thirteen million pounds, and then fifty million pounds by 1879.

It was not an easy transition from the free and open range to fence and scientific ranching. There were range wars and fencing cutting wars and the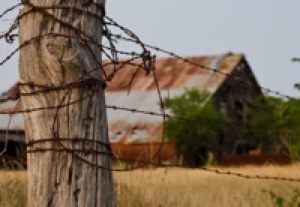 Devil's Rope

"big dieup" during the blizzards of 1885 and 1886, where thousands of cattle piled up against drift fences and froze to death. But love it or hate it, and there were many on both sides of that question, the wire was there to stay.

An article on Sanborn and his legacy, which ran in the Sherman Democrat in1954, summed it up. "The devil's rope had become part of the Southwest. It was used to enclose even the graveyards where many of its bitterest foes lay buried."