Entertainment
John Wesley Hardin - part 3: 'Four Sixes to Beat'
Dec 13, 2020
The dice tumbled across the top of the bar, and the player growled out an invective directed at either the uncooperative cubes or the grocer named Henry Brown with whom he was matching for drinks. "Shake again," said the grocer.
"You've got four sixes to beat," said the player as the dice spilled out of the cup. Those were the last words John Wesley Hardin would utter before an explosion from behind sent a lead slug into the back of his brain. The bullet came out through his left eye, leaving a neat hole in the lid, and then smashed into the mirror behind the bar. Shards of broken glass powdered the air and fell tinkling to the floor.
Twisting as he fell, Hardin lay face up on the floor as Old John Selman quickly stepped up to the body and fired three more times into its chest, one of the shots tearing off the tip of the little finger on the left hand. A man with a badge, Young John Selman, ran into the saloon and grabbed his father's arm. "Don't shoot anymore! He's dead!"
***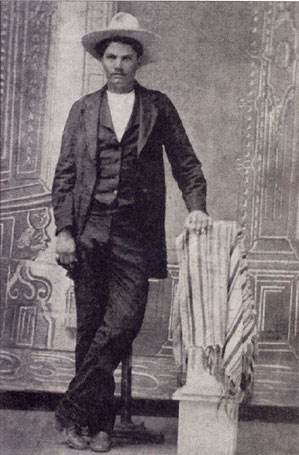 John Wesley Hardin, date unknown

When he entered prison on October 5, 1877, John Wesley Hardin was twenty-four-years old and the most notorious man in Texas. His trip from Comanche, where the jury had convicted him for the murder of Brown County Deputy Sheriff Charlie Webb, was in some ways a triumphal procession rather than a trip to the purgatory of Huntsville.

"When we got to Fort Worth, the people turned out like a Fourth of July picnic," wrote Hardin in the short autobiography he penned while in prison. "I had to get out of the wagon and shake hands for an hour before my guard could get me through the crowd. Crowds would come all along the route to see us, especially in Palestine." The adulation ended when he became prisoner number 7109. Prison records described him as 5 feet 9 inches tall and 160 pounds, fair complexion, hazel eyes, dark hair with numerous wound scars.

Set to work in the wheelwright shop, Hardin immediately joined an effort to tunnel into the armory, seize guns and ammunition and stage a mass prison break. The plan was discovered, and Hardin and nine other convicts spent fifteen days in chains in the hole.

Though Hardin and his friends later claimed he was model inmate, the official record suggests otherwise. There are at least seven entries chronicling offenses ranging from mutiny, to enticing to riot, to attempted escape. For these indiscretions, Hardin did time in solitary confinement and on several occasions was flogged, and at one point spent almost two years bed-ridden due to a recurring infection cause by Phil Sublett's shotgun attack in 1872.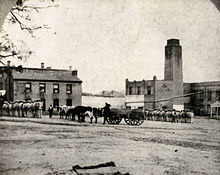 The exercise yard at Huntsville State Prison in the 1870s

Somewhere during this litany of misconduct, Hardin appears to have changed his ways—at least outwardly. He claimed to have become a serious reader and to have studied theology. "In 1885 I conceived the idea of studying law and wrote to the superintendent asking for his advice about what to read in order to have a practical knowledge of both civil and criminal law," he wrote at the end of his manuscript. The last entry in the book was a copy of a letter from Huntsville lawyer A.T. McKinney listing law texts Hardin could study.

In 1892, Hardin devised a way to leave the prison, if only for a short time, and see his family. He was still under indictment in DeWitt County for the murder of J.B. Morgan, and when he offered to plead guilty to a manslaughter charge, the county attorney agreed. When he came to Cuero for sentencing—he got two years to run concurrently with the twenty-five he was serving for the Brown murder—he got to see Jane and other members of his clan. A few months later Jane Bowen Hardin died.

A lawyer named W.S. Fly who had handled Hardin's plea in DeWitt and also was working on a sentence commutation, became an associate justice on the Texas Court of Appeals later that same year. Whether that was a factor is not clear, but on February 17, 1894, after almost sixteen years in the penitentiary, John Wesley Hardin left Huntsville with a full and complete pardon signed by Governor James S. Hogg.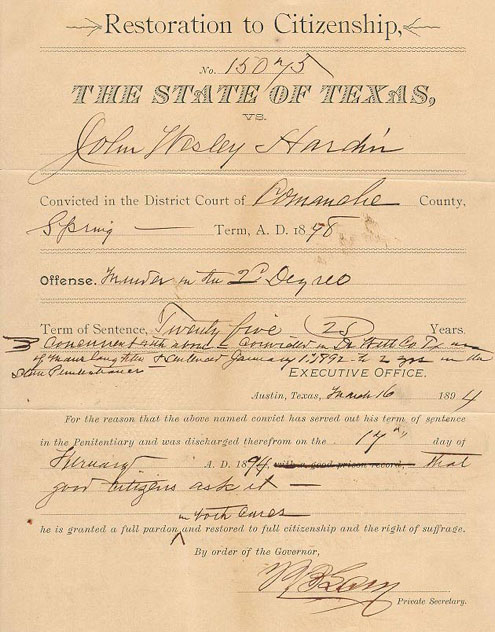 The pardon and restoration of citizenship issued to Hardin by Governor Hogg in 1894 that released Hardin from the penitentiary.
Hardin settled in Gonzales with his now grown children, but soon he became involved in a bitterly fought race for sheriff and deeming the political environment to hot, he moved to Karnes County. When he got a letter from his brother Jefferson Davis Hardin, inviting him to come to Junction and open a law practice, Hardin moved west.
In Junction, the newly admitted lawyer became enamored with young girl named Callie Lewis. She was fourteen, about the same age Jane Bowen had been when Hardin married her in 1874. He was forty-one.
Despite the age difference and Hardin's reputation, Lewis' parents had no reservations when he proposed marriage to Callie, and in January 1895 they were married. The union lasted ten days, and when it was dissolved, Hardin left Junction for Pecos and then, after a short stay, moved on to El Paso.
El Paso was a hard town, and Hardin's reputation attracted clients to his law practice, but he did not let his new vocation interfere with his avocations, which seemed to be gambling and drinking. In April he took on a new client, Beulah McRose or M'Rose or Morose—the spelling changes with the telling—a former prostitute married to Martin McRose, a New Mexico rancher and cattle rustler. Martin was across the river in the Juarez jail, and Beulah wanted him out.
With some judicious payoffs, Hardin accomplished this, but McRose was still stuck in Juarez, prevented from coming back into Texas because of a $250 reward on his head. While Hardin was looking after McRose's interests, he was also looking after McRose's wife, and word of the tryst got back to the wronged husband.
McRose got in touch with a U.S. deputy marshal named George Scarborough, and arranged to slip back into the Texas. It was a trick, and when McRose crossed the Rio Grande, another deputy marshal, Jeff Milton, and Texas Ranger Frank McMahan gunned him down. There were rumors that an El Paso constable, John Selman also was involved.
Many people assumed Hardin was behind the killing of Martin McRose. The lawyer did not deny it. Indeed, shortly after the affair, he bragged—he was drunk at the time—that he had paid George Scarborough to kill McRose. Scarborough took exception to the accusation and forced Hardin to dictate a repudiation of the story to the El Paso newspaper.
Things quieted down for a while, but when Beulah McRose was arrested and tossed in jail on a drunk and disorderly charge while Hardin was out of town, they boiled over. Young John Selman, an El Paso policeman, was the arresting officer.
Old John Selman, the policeman's father was a hardcase whose unsavory reputation was almost on par with Hardin's. Born in Arkansas in 1839, Selman had moved to Texas with his family and settled in Grayson County. At the start of the Civil War, Selman joined the 22nd Texas Cavalry and two years later deserted. He drifted west to Stephens County where he met and married Edna DeGraffenried in 1865. In the mid 1870s, the Selmans—they now had four children then—moved to Fort Griffin.
In Fort Griffin, Selman became a deputy under Shackelford County Sheriff John M. Larn. Larn was as crooked as they come, and the pair soon was engaged in all manner of thievery. Larn was sheriff for less than a year before resigning, but afterward, he and Selman continued their notorious ways. In 1878, a gang of masked vigilantes killed Larn while he was in the jail in Albany.
In 1879, Selman fled to New Mexico where he organized a band of desperadoes called the "Selman Scouts." The scouts left a trail of murder, rape, and pillage across the Land of Enchantment until the law broke up the gang and drove Selman back to Texas.
The Texas Rangers arrested him and delivered him to Shackelford County for trial, but Selman escape to Mexico, where he lived until the Texas dropped the charges in 1888. No longer wanted by the law in the Lone Star state, John Selman moved to El Paso, married Romula Granadine, and made a living as a constable and a gambler. In April 1894, Old John—he was Old John then, to distinguish him from his son, Young John—killed a well-known former Texas Ranger named Bass Outlaw in a brawl in an El Paso brothel.
About 7:00 in the evening on August 19, 1895, John Wesley Hardin accosted Old John Selman in the street outside the Acme Saloon. Hardin laced into Selman's son for arresting Beulah McRose.
"He pulled my woman when I was absent and robbed her of $50," roared Hardin. "They wouldn't have done that if I had been here." More words were exchanged, and as things got hotter, Hardin said, "I am unarmed. I will go and get a gun, and when I meet you, I'll meet you smoking."
It was about 11:00 when John Selman stepped through the door of the Acme Saloon where Hardin was shooting dice for drinks with grocer Brown.
***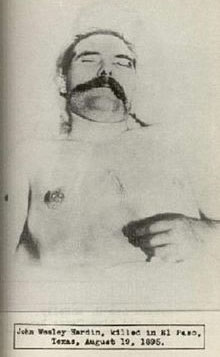 John Selman was arrested and tried for the murder of John Wesley Hardin, but the trial ended in a hung jury. A second trial was scheduled, but it never took place. On April 6, 1896, Selman and George Scarborough shot it out in front of the Wigwam Saloon. Hit four times, Old John Selman died on the operating table.