Entertainment
John Wesley Hardin – part 1: 'Champion desperado of the world'
Jul 20, 2016
"It has been said by some wag that Texas, the largest state in the Union, has never produced a real world's champion at anything. Surely this critic overlooked Hardin, the champion desperado of the world." Texas Ranger Sergeant James B. Gillett, who wrote those words in his book, Six Years with the Texas Rangers, 1875 to 1881, was referring to John Wesley Hardin, a Fannin County native, who, by accounts, killed thirty or more men during his forty-one years on the earth.
James Gibson Hardin was a Methodist preacher, circuit rider, and part-time schoolteacher, and when a son was born to Hardin and Mary Elizabeth Dixon Hardin in Bonham on May 26, 1853, he named the boy after the founder of Methodism. The elder Hardin also studied law, and when he joined the bar in 1861, he moved his family from Fannin County to Trinity County in deep East Texas. Here, or perhaps in neighboring Polk County, Wes Hardin's violent career began at the age of fourteen when he got into an argument with a boy named Charles Sloter over a girl named Sal. Hardin ended the dispute by stabbing Sloter twice in the chest and back.
In his autobiography, The Life of John Wesley Hardin from the Original Manuscript As Written by Himself, published in 1896, Hardin wrote, "If you wish to be successful in life, be temperate and control your passions. If you don't, ruin and death is the inevitable result." Unfortunately the author never took this admonition much to heart.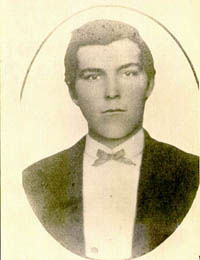 A young John Wesley Hardin

In November 1868, Hardin, who was fifteen, got into a fight with Major (Maje) Holshousen, a freedman and former slave of Hardin's uncle, following a wrestling match. When the two met later on a country road in Polk County and had words, Hardin shot Maje five times, and he later died. This killing, Hardin's first, was noted in the records by the army and Freedman's Bureau officials in the Liberty County seat of Sumpter.

Fearing retribution from Reconstruction officials, Hardin fled to his brother's home north of Sumpter. When he heard that three soldiers were coming to arrest him, he went on the offensive, ambushing the trio in a creek bed and in a quick fight killed all three.

To Hardin, all these murders were eminently justified. He saw himself as the victim, beset at every turn by the villainous Yankees. "To be tried for killing a Negro meant certain death at the hands of the court, backed by Northern bayonets," he wrote in mitigation years later. In truth, Hardin was a quick-tempered man with a pathological disdain for anyone whom he perceived to have crossed him.

In 1869, he joined his nineteen-year-old brother, Joe, and the two of them knocked around East Texas for a time. There are indications that the Hardins joined with a cousin, "Simp" Dixon, a stalwart of the Bob Lee faction in the feud then raging in Fannin and Grayson counties with the followers of Lewis Peacock, in a campaign against Federal troops operating in support of the Reconstruction forces. During that time Hardin may have added several more murders to his growing record.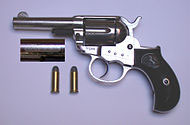 A short barrel, double action Colt .38 Lighting Model 1877 of the type favored by John Wesley Hardin.

Many of these later killings rested on Hardin's claims alone, and it is often difficult to know what is true and what is rumor often embellished by Hardin's imagination. Over the years, Hardin claimed to have killed at least forty-two men, but contemporary newspapers, records, and independent accounts verify only twenty-seven.

One early shooting is well recorded however. On January 5, 1870 during a card game in Towash in Hill County, a man named Benjamin Bradley, who had been losing steadily, drew a pistol and knife on Hardin. Saying he was unarmed, Hardin left the game, but later that evening Bradley went looking for him.

When Bradley found the teenager on the street, he took a shot at the boy and missed. Dozens of by standers saw the confrontation, and someone later described how Hardin drew two pistols, which he carried, butts facing inward, in pockets sewn on the front of his vest, with a crossed arms draw, and fired twice. One bullet struck Bradley in the head and the other in the chest, and he fell dead in the street.

In January 1871, officers in Marshall arrested and jailed Hardin on the charge of murdering Waco city marshal Laban Hoffman, an accusation Hardin denied. He later claimed to have made a daring escape from two Texas State Police officers assigned to take him back to Waco, and killed three other men in Bell County who tried to apprehend him.

About this time, Hardin showed up in Gonzales, where he took refuge with some of his many cousins. Then, in the spring of 1871, Wes Hardin, not quite eighteen-years-old, determining to get out of Texas for a while and took a job as a cowboy on a cattle drive going up the Chisholm Trail.
John Wesley Hardin, date unknown

The legend says he killed seven people en route and three more at the rail head town of Abilene, Kansas, where he had a run in with Wild Bill Hickok, the Abilene city marshal, and left town in a hurry.

Back in Texas in that same summer, Hardin married fifteen-year-old Jane Bowen, the daughter of a Gonzales County grocer in Riddlesville. The union would produce a son and three daughters. Marriage did nothing to settle down the fractious Hardin, and he soon took up rustling with Jane's brother, Robert. He also allied himself with even more of his cousins who were in turn supporters of the Taylor family then engaged in the infamous Sutton-Taylor Feud.

Hardin had claimed four more victims by the time Phil Sublett blasted him with a shotgun in a gambling fracas at the Gates Saloon in Trinity, Texas on August 7, 1872. Hit in the back and kidneys, the gunman came close to death, but recovered and for a while it seemed he had decided to mend his errant ways.

In September, still recovering from the shotgun attack, Hardin surrendered himself to Cherokee County Sheriff Dick Reagan "…to clear the slate." He changed his mind however when he saw the long bill of particulars for which he would face indictment, and escaped from the jail by sawing through the bars with a smuggled hacksaw. Officials apprehended Hardin again and lodged him in the Gonzales County jail. The outlaw pulled off another escape in November and joined Jim Taylor in the mini-war taking place in and around DeWitt County with the Sutton clan.

Next: John Wesley Hardin – Part 2

"Texas, By God!"