Entertainment
Heart and soul
Jul 4, 2016
As the heart pumps blood to the body, so a bank circulates money and provides the credit that brings viability to a community and nourishes the commercial life that keeps it alive. Never was this truer than in times past when the hardships of travel required a community to be self sufficient if it was to survive.
In that same long ago era, before the instant communication that today promises connection but more often seems to produce isolation, a newspaper provided small towns the tangible means of recording their shared experiences. It was the connecting thread that tied one day to the next, one year to the next, and one generation to other generations past and future. Newspapers gave small towns a soul.
For more than one hundred years, the heart and soul of Trenton, Texas, current population about 700, have been embodied by the town's two oldest businesses, The First National Bank of Trenton and The Trenton Tribune, and the three generations of the two families behind those enterprises, the Donagheys and the Holmeses.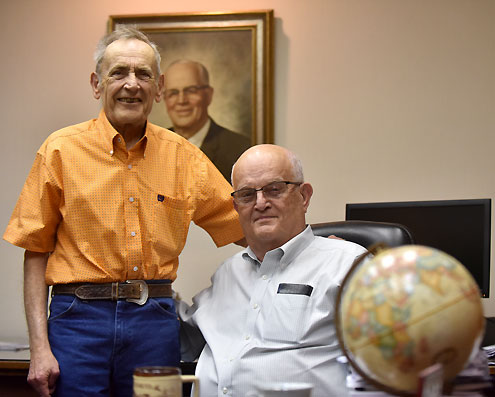 (L-R) Tom Mc Holmes and Lewis Donaghey
***
When it comes to family and to the businesses that became their life's work, Tom Mc Holmes and Lewis Donaghey neatly bracket the history of Trenton. Holmes' grandfather, Dr. W.C. Holmes, was an early settler in "the corners," that area where Fannin, Grayson, Collin, and Hunt counties come together in the midst of Wild Cat, Mustang, Black Jack, and Jernigan Thickets, whose tangled undergrowth and ancient trees combined to form an all but impenetrable mass of dense foliage so thick that in some places the sun could not penetrate the leaves. When the Missouri Kansas & Texas Railway started to lay track through the thickets in 1880, Dr. Holmes bought land, moved his family to the area, laid out Trenton's first plat, naming the streets for his children, and began to organize a town.
In 1901, Lewis Donaghey's grandfather Jno (Yes, that is the way he spelled his name.) moved to Trenton to start the town's first bank. Eight years later, in 1909, Dr. Holmes decided it was time the town had a newspaper; so with the help of his son Tom, a printer by trade, and a used press purchased from a failing paper in Paris, he started The Trenton Tribune.
***
Jno Donaghey came to Texas in 1878 from Illinois as a teenager with his twice-widowed mother and several siblings. The family settled around Nobility, south and west of Trenton. In time, young Donaghey got a teaching certificate from Grayson College in Whitewright, taught school for a few years in Nobility and later ran a cotton gin in that community. In 1901, he was operating a grocery store in Whitewright when a new opportunity presented itself.
The town of Trenton was growing. At the century's turn it counted more than thirty businesses including a couple of hardware stores, a grocery store, a funeral home, a furniture store, and even a confectionary to serve 300 residents and the myriad of small farmers and their families who worked the surrounding land raising mostly cotton. Two of the leading merchants, Y. B. Reed, who ran a hardware store, and grocer J. B. Robinson decided Trenton needed a bank, and to that end they recruited Jno Donaghey to leave his grocery store, join the venture, and run the day-to-day operations of a new bank.
"In those days, a grocer often became sort of a de facto banker," said Lewis Donaghey. "If there was no bank, he sold to the farmers on credit and got paid come the fall, and the main requirement back then for being a banker or a grocer was being able to judge character. Nobody had anything, and so when I sold you groceries on credit or loaned you money, it was promise to pay. You paid if you could, but if you didn't there wasn't much I could do about it. So being able to judge character was of primary importance, and I guess he had exhibited that trait.
"The purpose of a bank in those days was to facilitate local commerce. Merchants needed a place to clear checks, safeguard their money, as a place to get supply of money, and of course what has always been the purpose of banks, to provide available credit. In this instance it was not as much credit for the merchants as credit for the farmers because there was a farm on every forty acres. The commercial part of the community really existed to meet the needs of the farm families.
"If there was no bank in Trenton, it meant going to Leonard perhaps or Whitewright, and in those days, with a horse and wagon and no roads to speak of, that was a day's journey. The farmer got all of his money in the fall when he harvested his crops, and he needed some money to live on between crop times. He raised his seed, and he raised corn to feed his mules; he didn't need a whole lot of money but he needed to be able to buy the things he couldn't raise to support his family from one crop cycle to the next.
"I remember my father telling me that early on, a farmer might borrow $50 or $100 to make a crop, but it was really to live on. They all had a milk cow, and raised pigs, and had a garden, but they had to buy the necessities they couldn't produce themselves. Often they didn't even draw all the money, but just came in and took some out as they needed it."
Like the heart sustains the body, the small town bank sustained the farmer who in turn sustained the agricultural commercial cycle that kept the town alive. And in Trenton, the Donagheys, father and then son, watched over the process until Jno's death in 1952.
Henry Donaghey, Lewis' father, graduated from the University of Texas in 1923 with a degree in finance. He worked in a bank in Sweetwater for a few years and then came back to Trenton to join his father at the First National. "I think he made a conscious choice," said Lewis. "I went to UT, and I majored in finance, but I don't know that I had it specifically in mind to go back to Trenton and work with my father, although that's what happened." After a stint in the military and a short turn with an accounting firm in Dallas, Lewis came home in 1962. "My dad said, 'If you think you ever want to work here, now's probably the time to do it.'"
Lewis Donaghey came home at a time when the primary reason for the bank's existence was changing in a big way. For decades on the Blackland Prairie, cotton had been king; it was the cash crop that drove the agricultural commercial engine. That began to change in the 1920s when generations of hard use of the land, the boll weevil, and then the Great Depression drove the Texas cotton business west to the Southern Plains. World War II brought some prosperity back to the region, but the economic life of the small towns based on the proximity of small farms was, for the most part, gone for good. Towns such as Trenton became commuter communities, stops on the way to jobs in other towns.
"Some returning veterans came back and farmed, but there was a real transition taking place there, and it was a painful transition," said Donaghey. "One of major things that happened was when General Cable came to Bonham. There was a major crop failure in the early 50s, and all of our farmers were broke. General Cable came to Bonham about that time, and I know we had twelve or fifteen people who drove back and forth every day to work there. It was their salvation."
Trenton survived, aided by the completion of SH 121 in 1964. The highway, started in the 1930s and built in fits and starts over 30 years, offered a quicker and easier way to the jobs in Dallas and Fort Worth and their environs. But the commercial side of the community was still in decline. "In 1970 Trenton was beginning to dry up. It already had; many of the business on the square were gone. The town was really in distress economically. The bank started an organized effort to attract some businesses to town that could provide some jobs, and make sure people could still live here if they wanted to. The role of the bank, in my opinion, and in that case, was to promote and engineer an alternate means of employment for the citizens who could no longer farm. We were moderately successful for a town this size."
But there has to be more to it than that. At one time in Fannin County there were local banks in Ravenna, Bailey, Randolph, Windom, Dodd City, Ladonia, Leonard, Savoy, and Honey Grove. There are banks there no more unless they are branches of larger operations. First National Bank of Trenton, with branches in Bonham, Leonard, Melissa, and Farmersville, is now the largest bank with its headquarters in Fannin County. It is the 280th largest bank in Texas.
"We began to do things that traditionally the bank had not done," said Donaghey. "We made our first home loan in 1960. Until then, insurance companies underwrote most of the home mortgages in the county. We made automobile loans. That had been unheard of much in the early days, and the financing needs of those who were still farming changed, becoming much more capital intensive.
"Before, what determined the ability of the farmer to produce was the size of his family, because they were the ones who provided the labor, and that didn't take any borrowed money except for enough to get salt and sugar and keep them fed. When we started, farmers worked 40 acres; then it took 200 or 300 acres to be efficient. Now it takes 4,000. The scale has changed, and it's gone from labor intensive to capital intensive and there were financing opportunities for the bank there, but it is still basically to facilitate the needs of the community. My father foresaw the need to build more houses to attract people to Trenton, and he encouraged young people to buy homes and loaned them the money. I just kind of fell in line and continued the process, although I concentrated more on getting business into the community. It's a process of recognizing the change that is going on and is going to go on whether you accommodate it or not, and it's not going to get any easier."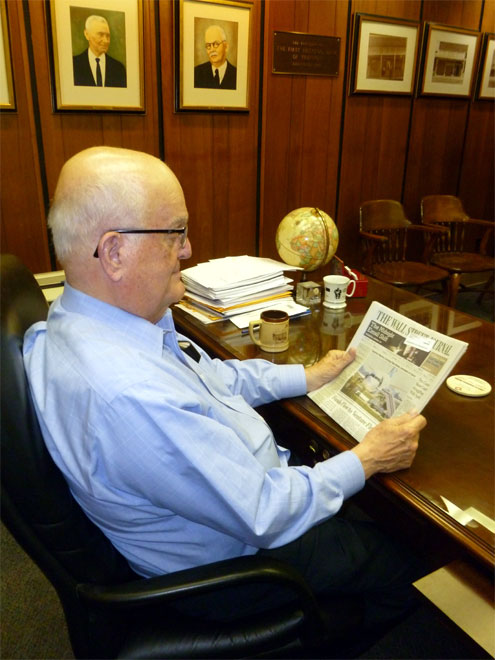 Lewis Donaghey
For more than 50 years, like his grandfather and his father, Lewis Donaghey has tried to see that the FNB of Trenton accommodated the changes that have come to his business and his town. A few years ago he turned the daily operations over to his son, Lew, who joined the business in 1990, but he still comes in most days—"I need a place to read the paper," he said—to keep an eye on things, to see that the heart of this small town keeps on, keeping on, and the beat goes on.
***
Tom McClure Holmes, known as "Tom Mc" to one and all, is sitting in the front room of the Tribune office in a rickety old wooden chair next to an equally aged desk scattered with papers, scraps of notes, receipts, and the miscellany that seems to accumulate on horizontal surfaces only occasionally used for their intended purpose. These days he does most of the work putting out the weekly edition of his paper from his home on Pearl Street where the Internet connection to the world of the Web is faster and more reliable.
But there is still something about the old offices that holds your interest. It's a nostalgic mix of the smell of ink and paper and dust, and in the winter the aroma from the old gas stove that heats the room, and it all comes together to remind you of something else—probably history, the history of the town that has been recorded with ink and newsprint in this place by three generations of the Holmes family.
Tom Mc Holmes
W.C. Holmes came first. He was born in the Abbyville district of North Carolina in 1840. Though only twenty-one when North Carolina seceded from the Union and joined the Confederacy, Holmes joined the army and served as a captain in the medical service.
"The Civil War brought wrack and ruin to the family," recalled Tom Mc. "They lost so much that he [Dr. Holmes] left home, started walking west, and somehow got to Galveston and then Houston. He was impressed by Houston but kept going north until he got to Dallas. He didn't like Dallas so he kept moving and finally settled in Pilot Grove."
Dr. Holmes' arrival in Pilot Grove was timely, but perilous. This was the early spring of 1867, and area around "the corners" was starting to boil over with the Lee-Peacock Feud. In early February, a Peacock man named Jim Maddox came up behind Bob Lee on the street in the town and shot him in the back of the head. Lee was recuperating from this attack in the home of Dr. William H. Pierce, when another Peacock supporter, Hugh Hudson, appeared at the house and shot and killed the doctor on his own doorstep. Into this dicey situation stepped young Dr. Holmes. "As near as I can tell, Dr. Holmes treated both sides and managed to remain more or less neutral," said his grandson.
"He stayed in Pilot Grove, married, and had two children born there. When the Katy Railroad was starting to survey for a line south out of Denison to connect from Whitewright to Greenville (sometime in 1880 probably), the survey ran through Wild Cat Thicket, and Dr. Holmes moved, with his wife and children, from Pilot Grove to this area on north edge of the thicket, bought some land, and decided to establish a township. There was nothing here except perhaps a small settlement near what is now Burns Cemetery. Dr. Holmes built a house on the edge of the thicket, and he and his wife had more children. My dad was born in Trenton."
Why Trenton? No one knows. Although legend has it the town drew its name from the capital of New Jersey, no one, not even Dr. Holmes, ever verified that claim, but Trenton it was, and Trenton it remained.
Dr. Holmes continued to practice medicine, both in his new town and in neighboring Blue Ridge, and never one to be still for long, he also studied law. "I never found any record of him actually practicing law," said Tom Mc, "but he continued to treat the sick, and traveled around on a favorite horse, Graybill. Old Graybill became so recognized that folks named a community in Collin County for him. There was a gin there, and a few houses, but there are only a few remains of the place left. It never did amount to anything because the railroad missed it."
But why the newspaper? Why did the doctor, lawyer, businessman, decided to start a newspaper? "I always wondered that," said Tom Mc. "My dad always said that a newspaper was one of the things he [Dr. Holmes] thought a town needed, and when the time came he founded The Trenton Tribune. My dad was the co-founder.
"My dad (Tom Hamilton Holmes) was working for the Paris Daily Advocate; he and his brother Fred Holmes were both newspapermen. Fred was a printer, and went to work for the government during World War II. My dad was a printer too; he got a little press with rubber type when he was boy and that was what enticed him. He went to high school, but that only went to the ninth or tenth grade in those days; he said he got his education in the newspapers and printing offices.
"The Daily Advocate was about to go under at the time, and so they bought the equipment from them and moved it to Trenton. It's still here." And most of it still works. Indeed, the back room of the Tribune is all but a museum of a turn of the century newspaper and printing establishment.
While the Tribune was the first paper in Trenton when it went to press in 1909, it was far from the first publication in the area. "There was the Leonard Graphic, the Whitewright Sun, the Whitewright Plow & Hammer, the Savoy Star, the Bells Chimes, and the Celeste Courier. The Tribune owned the Celeste Courier for a short time, but it didn't work out. My grandfather was the editor and the primary writer. Oh, he wrote a lot. My father ran the press, and my mother assisted with putting the paper out a lot of the time."
Tom Mc's father was a product of Dr. Holmes second marriage. "His first wife, Laura Abigail, and two daughters, Pearl and Carrie Mabry, made a trip to Virginia to visit relatives and passed through New Orleans where they all contracted cholera. Carrie Mabry and her mother died in Virginia, but Pearl survived and made it back to Trenton. Later my grandfather started corresponding with Laura Abigail's cousin, and in time asked her to marry him. She accepted and was my grandmother." Dr. Holmes died in 1924 at the home of his daughter, Pearl.
"I was born in 1936, and I grew up here, and it's really been a part of me. Still is. Starting about 1945 I was a printer's devil, sweeping up the place and doing odd jobs, but there was not enough revenue to support me and my mother and dad, so I became an electrician. My dad was one of the kindest persons I've ever known, and I respected him, I guess, more than anyone I've ever known, along with my mother, of course, and now my wife, Jo Nell."
Holmes may have been an electrician, but when things got tight he fell back into the newspaper business, working in composition for the Sherman Democrat and at the Bonham Daily Favorite off and on. If the truth be known, his real passion was music, and at the same time he was picking guitar and singing Western Swing—he calls it "hillbilly music,"—with bands all over of Texas and Oklahoma. He even cut a few records in Nashville and turned a gig or two with Bob Wills, "...but there never was any money in that," he said.
Tom Holmes died in 1958, and his son came home to help his mother keep the Tribune going. Actually, he had never really left Trenton; it was always his base, the foundation around for all of the other things that he did. He kept on doing those things too, playing guitar and singing, doing electrical work, watching the trains roll through town—he has been a railroad fan since he was a boy—as well as putting out the paper and watching as one by one, newspapers large and small disappeared.
The ancillary functions of the small town paper, the commercial printing of forms and fliers, handbills and the like that used to supplement the basic business of gathering and reporting the news have mostly faded away, done in by the computer, high end desktop printers, and software for design and self publishing. A paper like the Tribune survives on the few local merchants who still use print advertising, legal notices, and a small but loyal collection of readers who want to know what is going on in their town.
"Right now we print about 800 copies each week, and we have about 700 subscribers on the mailing list and figure to get around 1,200 readers each week. Most of the readers are local, but even to this day so many people who were born and raised in Trenton and have ties with Trenton and a love for the community still continue to subscribe to the paper.
"We try to keep our priorities in order to fill needs our readers want filled. I try to get as many obituaries of people who have ties with Trenton as I can when they pass on. I have always shied away from city council meetings, school board meetings and the like and I have never tried to editorialize on things unless it is something good that our city or schools are doing. And if you want, you can always find something good.
"My daddy told me, 'If you want to be successful in the newspaper business where ever you are, you should stay out of politics as much as possible.' I've tried to adhere to that; of course I've got my political views, but I've never tried to bring them forth on the paper. There was an exception of course; my granddad knew Sam Rayburn, and the Tribune was one of the first papers to endorse Mr. Sam when he first ran for the state legislature."
As Tom Mc Holmes rounds out eighty years in Trenton, he quietly celebrates with more than a little astonishment, and more than a little pride the simple fact that he has weathered all that has come his way over the years and is still making his mark. "The good Lord has blessed me with good health, and I've been able to change," he said. And changing is the key. While some people resist change, which is like King Canute trying to hold back the waves. Tom Mc has figured out that is better to go with flow.
"My granddad must have been a dreamer, and he always wanted to make those dreams come true. And you know, I guess he did. He was a doctor and a lawyer and decided to start a newspaper here in a little town out on the Texas frontier. I hope he's proud of me for keeping it going."